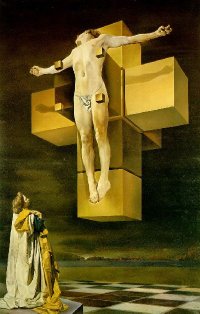 Continuing our look at the cross, we now drill down to the heart of the controversy: did it please the Father to crush the Son the cross, condemning him to die? Was the Father furious and mad at sin and sinners, and since all that sin was piled up onto Jesus on the cross, did the Father delight in the smashed up body and death of Jesus, knowing that his wrath was satisfied?
As I have discovered in the past few days, there are many models of substitutionary atonement, and indeed many models of penal substitution. I think I understand enough to outline the various different positions I have come across.


pagan propitiation model: In this understanding, the Father was mad because the wonderful people he had made in his image were all running around, committing sin, and therefore hurting each other and alienating themselves from God. "Someone has to pay!" is the Father's somewhat annoyed response. Looking around, the Father sees perfect Jesus down on earth and decides he will do. In fact, no-one else will do, as the Father requires a pure sacrifice and only Jesus is 100% pure and without sin. So Jesus dies so that the sin can be taken out of the sinners. This act appeases the wrath of God, and he is no longer mad at the sinners, because their sin has been taken away. To me, this model is based on a pagan understanding of propitiation and is therefore sub-biblical.

I think some Christians with a poor understanding of the scriptures can sometimes espouse this model. I've certainly heard someone share a "vision" they had of heaven which pretty much summed up this model: in the vision the Father was mad at some "sinner", but Jesus stepped in front of the Father's wrathful gaze, put his arms around the sinner, and said "Mine!" or some such. Clearly nonsense, as the Father and Son and not in some eternal battle over the atonement!


"hard" penal substitution. In this traditional, reformed viewpoint, the Father and the Son worked together in love to rid the world of sin and to avert the Wrath of God. Although God (inc the Father and the Son) loved the world, he was angry because of the all of the harm and hurt that existed within the world. His solution involved sending himself, the Son, to become human and live among his people. He would take upon himself the sins of the world, and respond in grace, not anger. Ultimately, he would die on a Roman cross, and somehow as the Last Adam our sin was transferred to him. God then crushed Jesus on the cross, and condemned him, as Jesus in that moment became a sinner became infused with the sins of the entire world -- he became sin -- even though he was sinless man. Then the Father turned his back on Jesus, as the scripture says that God cannot look upon sin. As a sinner As a sin-filled sinless person, he then died, but since the sin wasn't really his, Death couldn't hold him, and he rose again.

Is this the Calvinistic point of view? It certainly sounds like it. I believe new-reformed-charismatics such as Mark Driscoll hold to this particular model. Adrian Warnock has also defined his view of the atonement in a similar way

, and he notes that John Stott has also

explained the atonement

in a similar fashion

. I also believe that it is this kind of model (and certainly the previous!) that Steve Chalke has rejected. I also used to believe in this model, but I'm now thinking, thanks to Wright, that this might not be the best model (see next paragraph!)


"soft" penal substitution. Starts off the same as above, but note what Wright says: "Paul says explicitly that God condemned sin in the flesh of Jesus Christ ... he does not say that God condemned Jesus; rather, that he condemned sin; but the place where sin was condemned was precisely in the flesh of Jesus, and of Jesus precisely as the Son sent from the Father. And this, we remind ourselves, is the heart of the reason why there is now 'no condemnation' for those who are in Christ Jesus." (N T Wright, The Cross and the Caricatures). We should also note that in this viewpoint, we have something which is more akin to penal union than anything else: this model remembers the biblical truth that in some real way, we died in Christ as he died, and we will rise as he rose (from death), if we trust in him as our Lord. Also, I am not sure if Wright had said this, but I believe that those that believe in this model would say that the Father DID NOT turn his back on Jesus during his darkest hours.

Regarding this model of atonement, apparently J I Packer says something similar, as does John Stott

(although he has appeared to affirm the "hard" model as well -- see above)

, so perhaps Steve Chalke isn't so crazy after all.

(Although Peter Kirk has proposed an alternative model (see below), he has emphasised in the comments section of this post that he has no problem with model.)





non-penal substitutionary atonement. Peter Kirk has proposed this tentative model: "We humans sin and as a result our fellowship with God is broken. Nothing that we can do can restore this fellowship. God could punish us for our sin. But he chooses not to punish those who repent and believe, but to forgive them. However, this does not fix the problem of our broken fellowship with God. We cannot fix this problem. But in some way which we cannot understand, the eternal Son of God was able to fix it, and when the Father asked him he voluntarily agreed to do what was necessary. By becoming a man, dying on the cross, and rising again, he was able to restore the fellowship between God and humans."

This model seems to be saying that basically Jesus died, but it had nothing to do with the wrath of God, and he certainly didn't die instead of us. (He did die for our sins, however.) Jesus' death somehow manifests God's forgiveness for all humanity, which is offered without anyone "paying the price" per se. It seems God is simply willing to forgive and forget, now that Jesus had died. Some people would find philosophical problems with this viewpoint: if you have a spare hour, read Why can't God just forgive sin, instead of demanding justice?, by Glenn M. Miller, a defense of the penal nature of the atonement.

Some of my readers may be wondering, "what the hell does this have to do with anything?". Well, I think its important for many reasons. If we are sharing the gospel, and we end up turning people away for the wrong reasons, we have failed. Also, if we get the wrong view of the atonement, we will probably have an incorrect view of God in general. Which is never a good thing. I also think that if we get the atonement wrong, we can end up believing strange things, such as hell doesn't exist any more, or that everyone will end up in heaven (because the atonement is simply that God is love), things I have personally heard Christians start to say.
BTW, its not easy to summarise all this stuff, so if I have misquoted anyone, or misrepresented anyone's position, please add a comment and let me know!
Other folks discussing this: see
Peter Kirk's
blog posting on "
What is Penal Substitutionary Atonement?
".